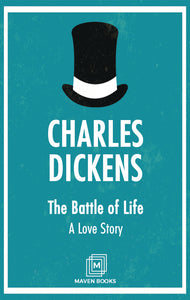 Once upon a time, it matters little when, and in stalwart England, it matters little where, a fierce battle was fought. It was fought upon a long summer day when the waving grass was green. Many a wild flower formed by the Almighty Hand to be a perfumed goblet for the dew, felt its enamelled cup fill high with blood that day, and shrinking dropped. Many an insect deriving its delicate color from harmless leaves and herbs, was stained anew that day by dying men, and marked its frightened way with an unnatural track. The painted butterfly took blood into the air upon the edges of its wings. The stream ran red. The trodden ground became a quagmire, whence, from sullen pools collected in the prints of human feet and horses' hoofs, the one prevailing hue still lowered and glimmered at the sun.Heaven keep us from a knowledge of the sights the moon beheld upon that field, when, coming up above the black line of distant rising-ground, softened and blurred at the edge by trees, she rose into the sky and looked upon the plain, strewn with upturned faces that had once at mothers' breasts sought mothers' eyes, or slumbered happily. Heaven keep us from a knowledge of the secrets whispered afterwards upon the tainted wind that blew across the scene of that day's work and that night's death and suffering! Many a lonely moon was bright upon the battle-ground, and many a star kept mournful watch upon it, and many a wind from every quarter of the earth blew over it, before the traces of the fight were worn away. 
1. Part the First - War, Peace, The Parting Breakfast. 
2. Part the Second - Snitchey and Craggs, The Secret Interview, The Night of the Return. 
3. Part the Third - The Nutmeg Grater, The Sisters.