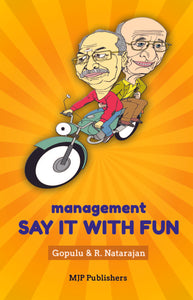 Gopulu, a celebrity Tamil caricaturist, created all-time classics for about 20 years in the popular Tamil weekly Ananda Vikatan. Being pantomimes, silent jokes, they could be enjoyed in magazines of any language. With Dr. R. Natarajan's crisp, humorous one-liners, they are transformed here as illustrated management lessons.
There do exist illustrated books in the management den. But this is genetically different. While cartoons of other books depict management thoughts of an author, here a cartoonist's silent impressions of the behaviour of people are articulated by an author from the management angle.
This revival of a celebrity's jokes of the past, infused with modern managerial bearings, will serve as a pictorial guide to practising managers and also as an effective, illustrated textbook to the students in business schools.