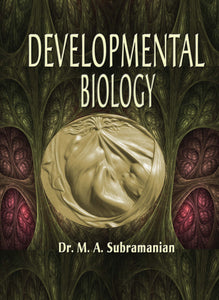 1. INTRODUTION,
2. HISTORICAL REVIEW AND THEORIES OF DEVELOPMENTAL BIOLOGY,
3. GAMETOGENESIS,
4. ORGANIZATION OF EGG—POLARITY, SYMMETRY AND GRADIENTS,
5. OVULATION AND EGG TRANSPORT,
6. FERTILIZATION,
7. EGG CORTEX AND DEVELOPMENT—CORTICAL REACTIONS AND THEORIES OF FERTILIZATION,
8. PARTHENOGENESIS—VIRGIN BIRTH,
9. CLEAVAGE,
10. FATE MAPS AND CELL LINEAGE—PRESUMPTIVE AREAS AND THEIR SIGNIFICANCE,
11. MORPHOGENETIC MOVEMENTS AND GASTRULATION,
12. CELL DIFFERENTIATION,
13. GERM LAYERS AND ORGANOGENESIS,
14. INDUCTION (ORGANIZER CONCEPT),
15. FOETAL MEMBRANES OR EXTRA-EMBRYONIC MEMBRANES IN AMNIOTES (CHICK AND PIG),
16. IMPLANTATION AND PLACENTATION IN MAMMALS (EUTHERIAN MAMMALS),
17. TERATOLOGY,
18. PRENATAL DIAGNOSIS OF ABNORMALITIES,
19. METAMORPHOSIS,
20. REGENERATION,
21. REPRODUTIVE AND DEVELOPMENTAL PATTERNS IN INVERTEBRATES,
22. INVERTEBRATE LARVAE AND THEIR SIGNIFICANCE.