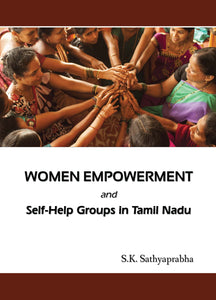 India's women empowerment approach in its planning, has been revealing many positive outcomes in rural India. One such significant outcome was the massive inclusion of women in the developmental sector as the self-help group movement. The customization of grameen system of Bangladesh according to the Indian scenario and its implementation in all the states has been making milestones not only in the economic empowerment of women, but also in the social, political and psychological sectors of empowerment. Both the outputs and the outcomes of self-help group's movement were very impressing.This book on empowerment of women through self-help groups was the outcome of the research conducted in the Madurai District of Tamil Nadu. The study was undertaken during the initial stage of operation of self-help groups system in Tamil Nadu through National Bank for Agriculture and Rural Development (NABARD) and International Fund for Agricultural Development (IFAD). The strong support of the funding agencies/banks, government, non-governmental organisation has been making wide spread of tremendous increase of self-help groups. The simultaneous effort of 33% of reservation for women in the local bodies has been acting as an added advantage for the mass political entry of women at the grassroots. These two coincidence has been mutually supporting each other for the political empowerment of women.Women leadership at the grassroots level into the mainstream of rural governance has been strengthening the local institutions. The success of these women panchayat leaders in the delivery of their public services and their involvement in the various functions of overall local developmental process has been rising all over India every year. Though there are many supporting mechanisms for their achievements like family background and their support, caste/community, leadership qualities, education, economy, training, NGOs, etc., the evolution of self-help groups movement a decade ago and its rapid multiplication, extension of various activities has been acting as catalyst for many women panchayat leaders for being elected as well as for their better implementation of their functions both formally and informally.For many underprivileged women who are first time contesting in the elections, these self-help groups are acting as channels for their political empowerment and also they gain many leadership qualities like better communication, social mobilization, commitment, responsibility, accountability, etc., as they were attached to the self-help groups. In this context, this book was designed to showcase the in-depth study conducted about the self-help groups and its role in the empowerment of women.It will give a bird eye view about the subject and act as a stimulus to further research.
Contents: 
1. Introduction, 
2. Profile of Madurai, 
3. Empowerment of Women, 
4. Analysis of Assessment Criteria and Their Interpretation, 
5. Conclusion and Suggestions.